Blackwing
Blackwing 42 Point Guard - Road Gray (Dark Silver)
The Blackwing Point Guard is designed to ensure your Blackwing pencil gets wherever you're going in one piece. Crafted out of lightweight, machined aluminum, the Point Guard goes over the point of your Blackwing pencil, keeping it safe in your bag, pocket, or pencil roll.
This special edition Point Guard was designed to be paired with the Blackwing 42. The dark silver color matches the ferrule of Volume 42, and each Point Guard has Jackie Robinson's iconic number 42 etched on the end. 
Slideshow
Other top rated products
4.8
4.8 star rating
11 Reviews, 1 Q&As
Thank you for posting a review!
We value your input. Share your review so everyone else can enjoy it too.
Thank you for posting a review!
Your review was sent successfully and is now waiting for our staff to publish it.
Thank you for posting a question!
Please click on the link in the confirmation email we just sent you to submit your question.

Your question will appear on the site once someone answers it.
Filter Reviews
5 star rating

4 star rating

3 star rating

2 star rating

1 star rating
Happy Scorekeeper!
Review by Anabel s. on 4 Sep 2019
review stating Happy Scorekeeper!
When I saw the tribute to Jackie Robinson, I was ecstatic and was extremely happy to see the point guard to compliment the pencils. It's a great tribute and a wonderful collection to use at baseball games.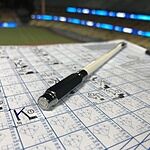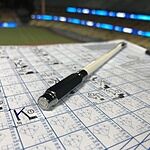 On Blackwing 42 Point Guard - Road Gray (Dark Silver)
On point!
Review by Venice R. on 30 Jan 2020
review stating On point!
This is a highly stylish way to protect your pencil and keep their newly sharpened tips sharp. It won't make your pencil really heavy to hold, but it will add some weight to it. Personally, I love the feel and the weight of the metal in my hand.
The price is a little steep, but for those who don't mind spending a little more for style, definitely give this one a try.
On Blackwing 42 Point Guard - Road Gray (Dark Silver)
Very useful
Review by Laura S. on 23 Nov 2019
review stating Very useful
This cover fits snugly over my Blackwings and stops those long points from breaking off. The 42 design is a fun touch, and the color of the metal is cool.
On Blackwing 42 Point Guard - Road Gray (Dark Silver)
Jackie would be proud
Review by David T. on 12 Oct 2019
review stating Jackie would be proud
His magic on the baseball field was pure poetry, and this is a fitting tribute to him. it's a good looking pencil. anyone can swing a bat and catch a ball, but making it look good is a feat all on it's own. Writing with this pencil may not make me a poet, but i'll at least look good doing so.

the color scheme was well thought out and the finish is just superb.
On Blackwing 42 Point Guard - Road Gray (Dark Silver)
Q: Are Blackwing pencils no.2? they seem to be a bit softer than most no.2 pencils--which actually makes them good for drawing.

A: Hi Ann,
The Blackwing pencils don't use the traditional grading system. Here is a quick explanation of the different leads used in our pencils.

Blackwing – Soft. Dark lines. Excellent shading ability.

Blackwing 602 – Firm. Lighter graphite. Great for notes, lists, and outlining

Pearl – Balanced. Graphite is a blend of that found in BW and 602. Firm point, dark graphite. Versatile.

Natural - Extra-Firm. The graphite is ideal for extended writing sessions and detailed line work.

Hope this helps,
Blackwing
Was this answer helpful?
0
0